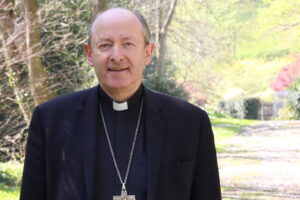 It is difficult to know what to write on Christmas cards again this year.
I can't use some usual message – like- 'Have a Happy Christmas and Prosperous New Year'. It just doesn't fit right because of the stressful situation in which we find ourselves again this year. This Christmas we thought the pandemic would be over. But it lingers on.
Actually the longer it goes on the more I ask myself the deeper questions about life. The pandemic has shaken me and everyone. And therefore it can make us alert to what really matters. It has awakened our hearts so that they do not become frozen. It has helped us to reach out to others. It has made us ask those deep questions. One answer I come up with is – that life is wonderful but is not supposed to be easy. Life is a great, beautiful but tough adventure.
So on my Christmas cards I don't want to write something bland – Maybe would it be better to write something like, "Please know you are not alone", or "Keep on hoping". Yes, maybe that's better, "Keep hoping". And this in fact is what living by faith actually means. Even when we cannot see the way ahead we continue to trust that God is with us. We human beings love to have all the answers. But we don't. God does – but he chose answer our questions by coming among us to be one with us, completely. He is born in the most simple surroundings in the stable with Mary his mother and Joseph his foster father. Jesus shows us how to live. He rebuilds what we have broken down. But all is well if I can but trust Him. So Lord because you are with us we can keep on hoping, because we are not alone. You are with us – Emmanuel.
So maybe after all I can write on those cards – Have a very Happy Christmas and keep on hoping and every blessing to you and to all.