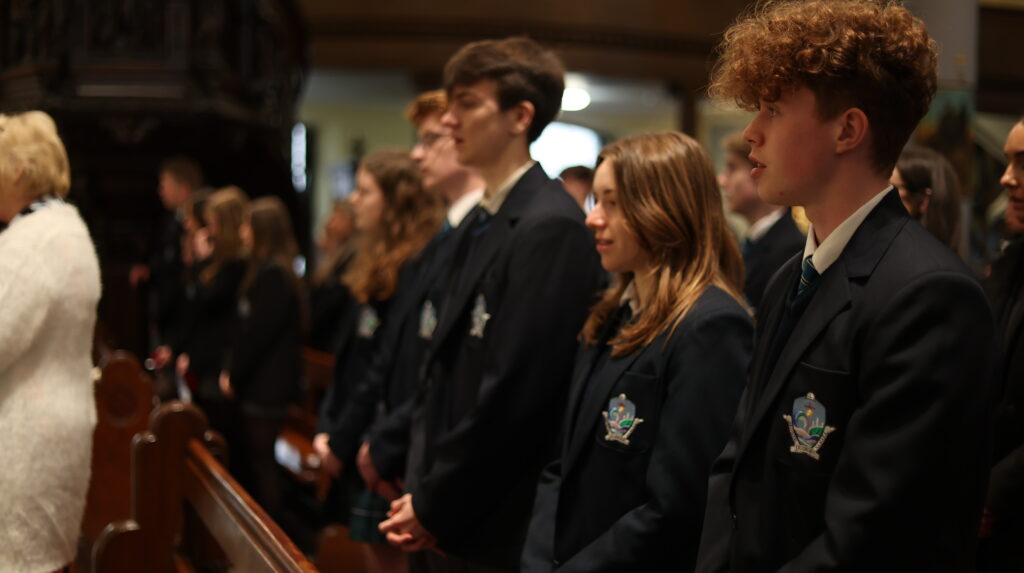 Congratulations to the 45 recipients of the Pope John Paul II Award who completed their award last year and received their medals in a beautiful ceremony at the Cathedral in Waterford last week. Each of these students stepped up to volunteer in their parishes and communities over a period of several months in many different ways, and some have continued to do so.
Bishop Cullinan reminded the recipients of the words of Pope John Paul II, "Be not afraid", and of the call of St Francis: "It is in giving that we receive".
David Elliott, Ardscoil na Mara, spoke warmly about his experience of completing the award, thanking all those who made it possible and recognising the impact it had on his faith and sense of belonging in his parish, reminding the other participants of the words of St Catherine of Siena, "If you are what you should be, you will set the world on fire."
Diocesan Coordinator Nodlaig Lillis congratulated the participants on their achievement and on being beacons of hope in a world that needs the energy and enthusiasm young people can bring, and encouraged the young people to stay involved in parish life and connect with Ascend Youth & Young Adult Ministry in the diocese, maybe even becoming John Paul II Award leaders or Faith Reps in their parishes in the future.
Thank you to the Award Leaders, Priests and parishioners who support these young people. Not all of the recipients were able to attend on the night, and some were presented with the medals the following day.
Thank you also to the young adults from Holy Family Mission who provided music for the ceremony, and to the Servant Sisters of the Home of the Mother for their photography.
Sincere thanks also to the members of the Pope John Paul II Award Committee in the diocese for their commitment and support of these young people every year: Fr Michael Toomey, Mary Murray and Olivia Elliott.
For more information on the Pope John Paul II Award go to https://thepopejohnpauliiaward.com
Click to watch a video of images from the night.