Symbolon Series: The Catholic Faith Explained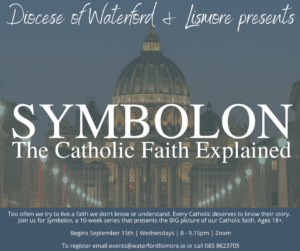 The Diocese of Waterford & Lismore presents Symbolon: The Catholic Faith Explained. Too often we try to live a faith we don't know or understand. Every Catholic deserves to know their story. Join us for Symbolon, a 10-week series that presents the BIG picture of our Catholic faith, with the Creed as our guide.
The course will run on Wedesday nights beginning September 15th from 8 – 9.15pm. The course is open to anyone in the diocese, aged 18+ and is free of charge. All are welcome!
Register by emailing events@waterfordlismore.ie or contacting 085 8623705
Meet the Faith Development Officer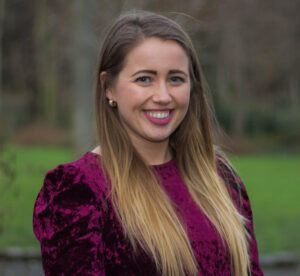 Emma Sisk is a native of Ballyporeen parish. She holds a BA in Theology and Religious Studies and Media and Communications Studies from Mary Immaculate College, Limerick and a Certificate in Studies of the
Catechism of the Catholic Church
from Maryvale Institute. After graduation, Emma trained as a multimedia journalist with the Press Association UK. After two years working as a journalist for Media Wales in Cardiff, Emma left a career in journalism to work for LifeWorks Education, an Irish pro-life organisation with a focus on secondary school students. She spent the majority of her time speaking to young people across Ireland about the right to life of the unborn and the dignity and value of every human life. Following that, Emma worked as a Communications Officer for the Irish Catholic Bishops' Conference during the World Meeting of Families 2018. In January 2019, Emma moved to the US to earn her MA in Theology and Christian Ministry with a specialisation in catechetics from Franciscan University of Steubenville before assuming her current role as Faith Development Officer in the Diocese of Waterford & Lismore.
The Faith Development Office is located in St John's Pastoral Centre, John's Hill, Waterford City
Tel: 085 8623705
Email: emma.sisk@waterfordlismore.ie