Youth Ministry & Young Adult Initiatives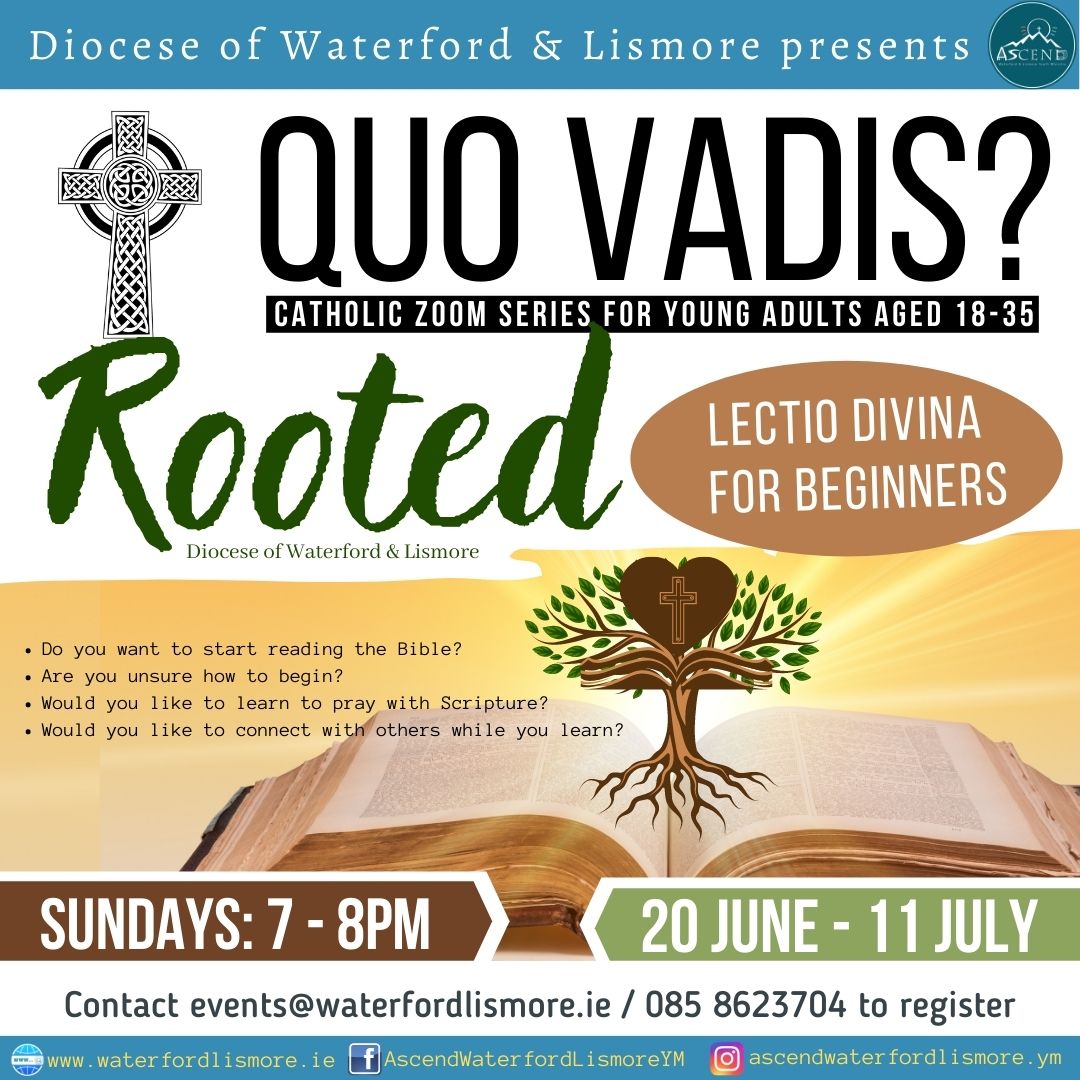 Quo Vadis
"Quo Vadis" is a Catholic Zoom Series for Young Adults aged 18 – 35 and provides a space where young adults can journey together in their faith.
It will run every Sunday from 7 – 8pm, and the next series begins on June 20th with a four-part series on Lection Divina: praying with Scripture. Click here to register. More information by emailing events@waterfordlismore.ie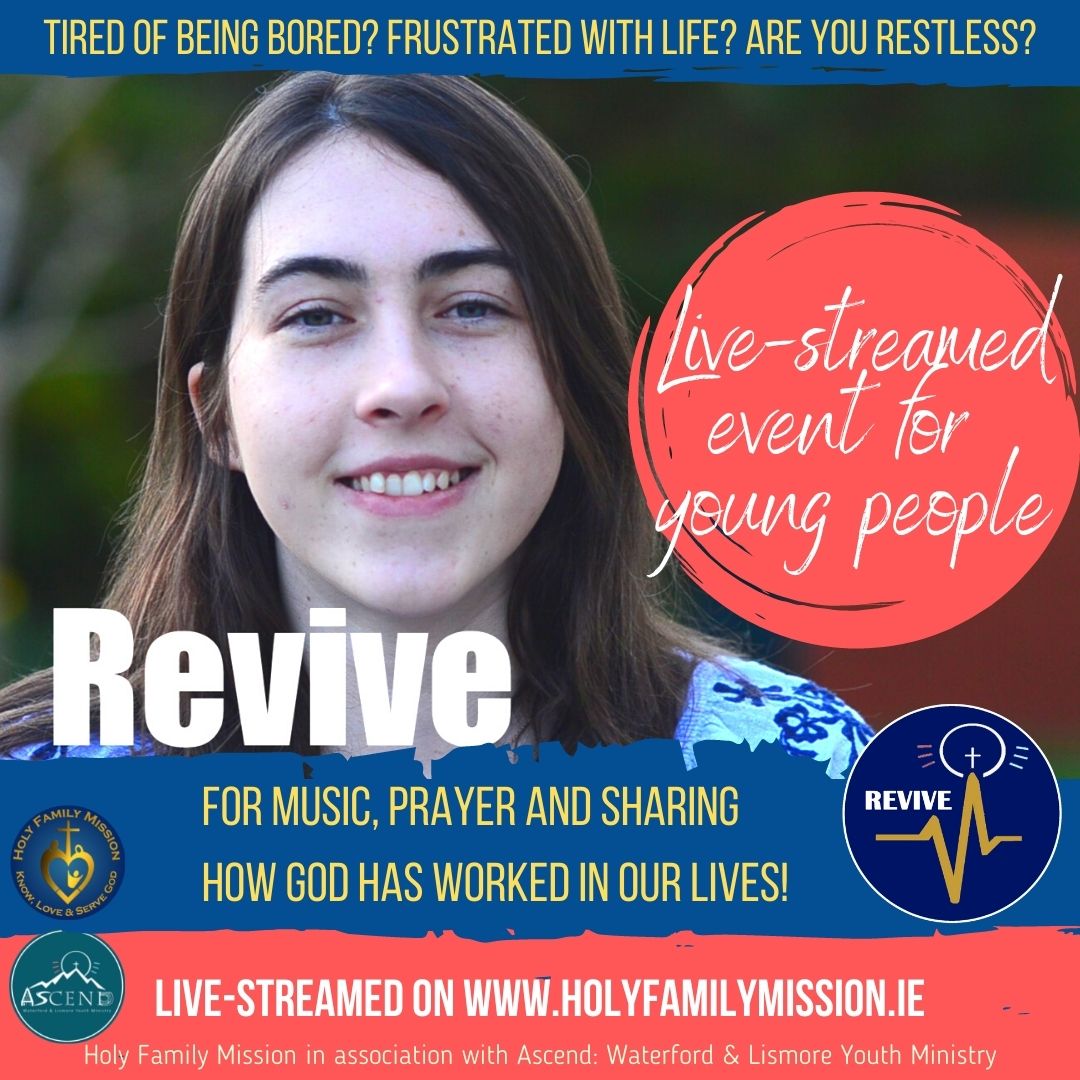 Revive:
Are you tired of being bored? Frustrated? Feeling restless?
Join with Holy Family Mission in association with Ascend Youth Ministry for REVIVE for a live stream event for young people on www.holyfamilymission.ie With music, prayer and time for sharing how God has worked in our lives!
Check back here for upcoming dates.
At a time when the outside world has stopped, come to revive your life! Click here to learn more!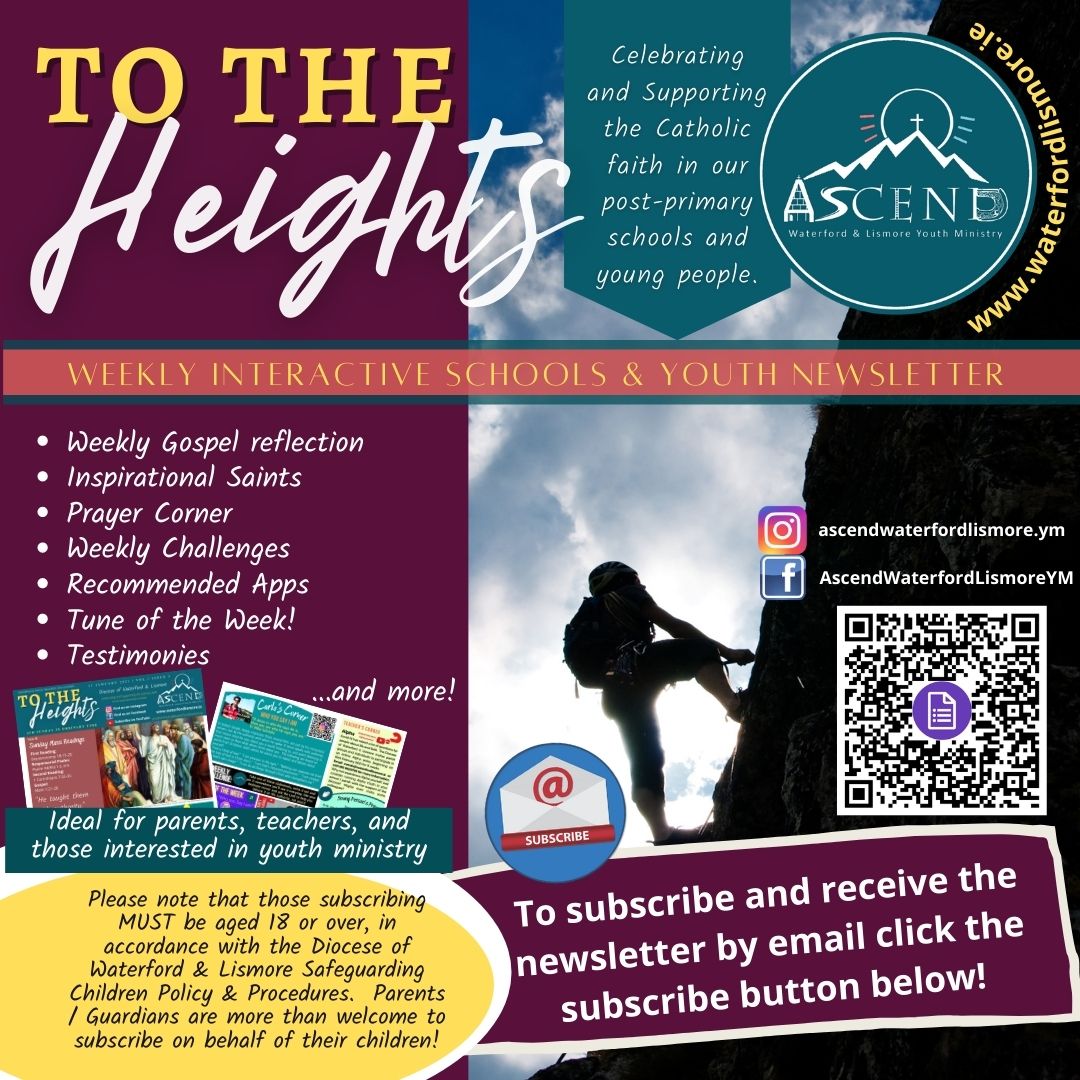 To the Heights:
Weekly Diocesan newsletter Celebrating and Supporting the Catholic Faith in our post-primary schools and amongst young people! With weekly Gospel reflections and challenges, inspirational saints and testimonies from young people, tune of the week, recommended apps and much more…
Ascend: Waterford & Lismore Youth Ministry Vision
The name "Ascend" reminds us that life is a great adventure: never lose hope, never give up! It is also a reminder of our Christian hope in something greater and better; this world is not all there is; our ultimate goal is Heaven! Finally it reminds us of the theme of our Diocesan Pastoral Plan, "Go Make Disciples", since Jesus gave His Great Mandate at His Ascension.
The Mountain is inspired by Blessed Pier Giorgio Frassati's quote: "Verso l'Alto!" (To the Heights!) We are all at different stages on the climb, but we must always strive onwards and upwards in our faith and keep our eyes focussed on Heaven! At the summit we find our hope in Jesus Christ. The Cross, the Eucharist and the rays of Divine Mercy remind us of the immense gifts we have in the Sacraments of the Catholic Church.
The Rest of the Logo: We draw on the rich heritage of faith in the Diocese, symbolised by the Ardmore Round Tower and the Lismore Crozier, which together also spell AD, Anno Domini. The design of the "S" symbolises the fire of the Holy Spirit. At the centre of the word Ascend (in the E) is a decade of the rosary, a reference to Our Lady and her role in guiding us and all youth to her Son. The blue / green is the colour of Our Lady of Guadalupe's mantle.
Youth Ministry Officer: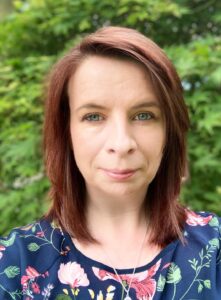 ​Nodlaig Lillis is a native of Ballindangan Parish in the Cloyne Diocese and has been involved in youth ministry for over 20 years. She is a qualified English and Religious Education teacher, with over 19 years' experience teaching in Doneraile, Co. Cork. Nodlaig also has a Diploma in New Evangelisation and Youth Ministry, as well as a Certificate in Studies in Catechism of the Catholic Church from Maryvale Institute. Her experience in parish ministry includes serving as Extraordinary Minister of the Eucharist and of the Word, delivery of Sacramental Preparation Programmes for Children and their parents, Music Ministry, Youth 2000 Prayer Group leader, and Parish Web design and Social media. A former Munster Regional Leader with Youth 2000, Nodlaig was very also involved in the areas of Music Coordination and PR. She worked for four years on "Teen SpiriT: A Celebration of Teen Talent and Christian Faith" in the Kerry Diocese, and for the past ten years has worked extensively with Summer Faith Camps in Ardmore, Dungarvan and Tramore, as well as in the Cloyne, Limerick and Kerry Dioceses, including the online Campa Mhuire Mháthair in July and December 2020.
The Youth Ministry Office is located in St John's Pastoral Centre, John's Hill, Waterford City
Tel: 085 8623704
Email: nodlaig.lillis@waterfordlismore.ie / youthministry@waterfordlismore.ie
Follow us on Social Media for regular updates!
Ascend Youth Ministry Resources to Download:
Sr Clare Crockett Resources