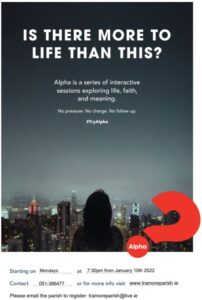 Tramore Parish Alpha programme begins on Monday 10th January and continues for 13 weeks.
Come and enjoy music, videos and discussion on Christian topics with Tramore Alpha online through Zoom.
Starts on Monday 10th January – 7.30pm – 8.40pm for Jan, Feb and March.
All welcome (18+) and a friendly atmosphere is guaranteed.
For more information please visit www.tramoreparish.ie/alpha
Register your interest with the Tramore Parish office by email [email protected]